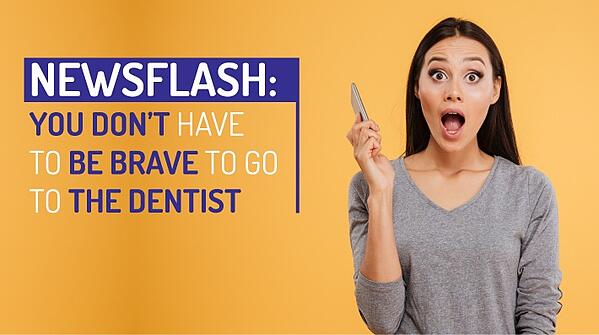 If the thought of seeing a dentist sends shivers down your spine, then you are not alone. A considerable percentage of the population have dental fears and phobias and it can affect even the most rational person who knows, deep down that often there isn't any real basis for these feelings. For others, these fears might be more real, bringing back memories of previous bad experiences in the dental chair.
The reasons for dental fears and phobias can be far-reaching. Some people have a fear of needles or may have phobias passed on by parents or siblings. Having a fear of small spaces can make it difficult to relax comfortably in the dental chair, or people can feel uncomfortable when the dental chair is reclined. Yet another common dental phobia is a fear of loss of control.
The problem with all these phobias is that it can prevent you from receiving the treatment you need or desire. Often people with dental fears will have avoided dental care, resulting in tooth loss and these are the very people who could most benefit from dental implants. The good news is that you don't need to feel anxious or nervous when receiving treatment and it's possible for even the most fearful person to comfortably receive dental implants in Dubai and to benefit from all the advantages offered by this procedure. Listed below are some of the reasons why dental implants are nothing to fear.
Dental implants are extremely well researched and there are studies into this procedure stretching back decades. Every aspect of this treatment has been carefully analyzed to prove the safety and longevity of components and the techniques used to place dental implants. On average, dental implants have a success rate of 95% or even higher, depending on the skill and experience of your implant dentist.
The major companies who produce the components used in dental implantology carry out their own extensive research which is ongoing as they develop newer and even more successful implant systems. These top dental implant companies are known and respected worldwide for their reliability.
The techniques used to place dental implants, including bone grafts can be pain-free thanks to modern local anesthetics. It is surprisingly quick to place a single dental implant and some of the surgical techniques used are minimally invasive. For example, with some implant treatments it's possible to insert the implant directly through the gums so there is no need for any incisions or stitches. Additionally, many dentists choose to place dental implants using computerized implant surgery. This is a technique where every single stage of the implant surgery is pre-planned using sophisticated software. The treatment plan is then transferred to a surgical template or stent, so it can be accurately replicated during the procedure to place the implant. Using computerized surgery helps ensure that the surgery is quicker and smoother for the patient and that healing is more comfortable.
Sedation is an option for people with deep-seated dental fears, as it gives a feeling of calm and relaxation during treatment. One type of sedation which is available in Dubai is known as oral sedation, which is medication taken by mouth before treatment, to put a patient in a comfortable state. Some patients drift off to sleep and won't remember much about the treatment afterwards. The effects of the medication wear off after the dental treatment is complete, making it a favourable option for patients who require a slightly more complex and lengthier procedure. Modern sedation techniques are very safe, as your suitability is carefully assessed as part of your treatment plan for tooth replacement in Dubai.


 Every consultation for dental implants is an extremely detailed process. Your implant dentist will want to ensure you fully understand your treatment, and will provide a treatment plan showing all procedures required and the time needed to place and restore your dental implants. By discussing your treatment beforehand, your dental implant dentist can make sure you know exactly what to expect during and after treatment. This helps to eliminate any fears about the unknown and it's a great opportunity to ask as many questions as you like. Once you know what to expect then dental implant treatment should seem much less scary and hopefully, you'll even begin to look forward to the process of restoring your smile.
Last but certainly not least, modern communication techniques in dental offices have improved tremendously over the past few years. Most dentists are fully aware of how 'exposed' a patient can feel when receiving treatment, particularly when they cannot talk. To overcome these feelings, dentists can ensure treatment is always provided at a pace which is comfortable for you. They will make sure you receive regular breaks and usually treatment can be halted simply by raising your hand.
You Don't Have to Be Brave to Go to the Dentist
If you have previously felt that you needed to put on a brave face for dental visits, then why not try a different approach? When you call to book, explain to the reception team how you feel about dental appointments. This way, they can ensure that the dentist will spend a little extra time with you during your initial consultation to help set you at ease. You certainly won't be the first person they have helped overcome their dental fears, and you will almost certainly be pleasantly surprised when they carefully explain all the techniques and procedures which will help ensure your dental implant treatment is as pleasant as possible. It's important to remember this initial consultation doesn't involve any treatment but will help build your confidence so you can go ahead with the very best form of tooth replacement in Dubai.
All it takes is a single phone call to make that very first appointment. In a few moments, you could be feeling very proud of having taken that first, vital step.